Announcement of the Establishment of a Joint Venture in Indonesia
October 19th, 2020
erex Co., Ltd. (Head office: Chuo-ward, Tokyo; hereinafter "erex") is pleased to announce that erex Singapore (Location: Republic of Singapore, hereinafter "ES"), its subsidiary in charge of fuel procurement management, has established a joint venture company in the Republic of Indonesia (hereinafter "Indonesia") to set up a collection stockpile with PT Dharma Energi Investama (Head office: Jakarta, Republic of Indonesia; hereinafter "DEI"), a subsidiary of PT Dharma Satya Nusantara (Head office: Jakarta, Republic of Indonesia; hereinafter "DSN")
Note
1. The Purpose of Establishing a Joint Venture Company
erex Group has set forth its vision for 2030 as "To become a pioneer in the new era of electric power with renewable energy at its core," and aims to become a company that is valued and needed in the coming de-carbonized society by realizing this vision based on trust and cooperation. erex Group is currently operating or developing five biomass power plants and is also developing a mega non-FIT biomass power plant in Japan. Internationally, erex Group is promoting renewable energy business globally, including the expansion of its fuel business, particularly in Singapore, and the development of a hydroelectric power plant in Cambodia.
DSN is listed on the Indonesia Stock Exchange (IDX), and is a major local business company that owns its in-house plantation in the eastern part of Kalimantan Island, Indonesia, where it manufactures crude palm oil and wood products through plantation operations.
erex procures PKS (Palm Kernel Shell) from Southeast Asia to fuel the biomass power plants operated by erex Group, and securing long-term, economical and sustainable PKS is important. By setting up a collection stockpile in collaboration with DSN, which owns its own plantation and mill, erex Group can further secure long-term and economical PKS. In addition, DSN's CPO mill is fully RSPO-certified, which can be in line with the "Confirmation of the Sustainability of Biomass Fuels" currently under discussion by the Ministry of Economy, Trade and Industry, and is expected to make a significant contribution to the stable procurement of and supply to erex Group.
On October 8, a ceremony was held to sign the joint venture agreement between DSN and erex, where greetings were made by both companies with Mr. Hitoshi Honna, President and CEO of erex, saying "I am very pleased to have signed this agreement today. We look forward to expanding this project while maintaining the trust between the two companies over the long term." and Mr. Adrianto, CEO of DSN, saying, "We look forward to moving forward with our business to achieve our shared goal of creating a sustainable society in an environmentally responsible manner."
Based on its vision of "To become a pioneer in the new era of electric power with renewable energy at its core," erex will pursue synergies with its co-creation partners, improve the competitiveness of its biomass and other renewable energy businesses, and expand its business both in Japan and internationally, with the aim of maximizing its corporate value as it moves toward a de-carbonized society.
2. Company Profile
Profile of the Joint Venture Company
| | |
| --- | --- |
| Company Name | PT Dharma Sumber Energi(DSE) |
| Location | Republic of Indonesia |
| Name and Title of the Representative | FRANCISCUS EFFENDI SULISETYO, Representative Director |
| Business | Biomass Fuel Stockpile and Export Business |
| Capital Stock | US$1,000,000 |
| Shareholding Ratio | DEI 67%, ES 33% |
| Incorporation | October 2020 |
3. Business Scheme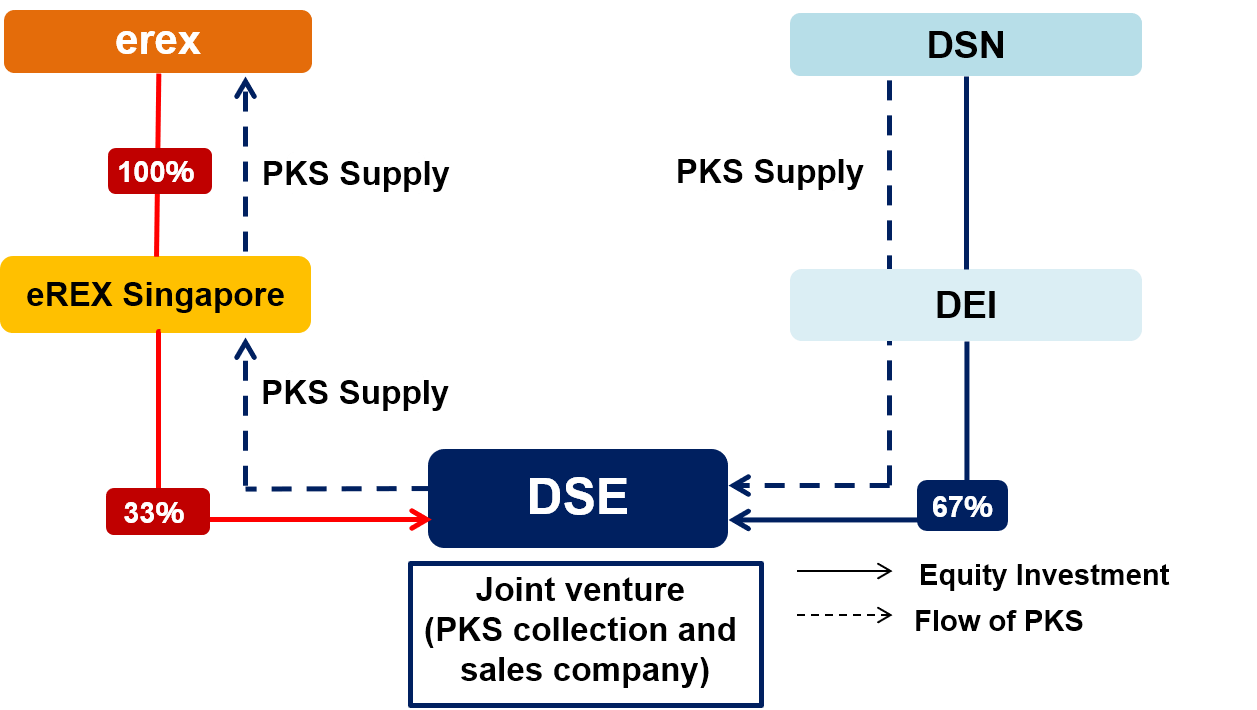 4. Timeline
| | |
| --- | --- |
| October 2020 | Establishment of the Joint Venture Company |
| December 2020 | Start of Stock Pile Business (Plan) |
| September 2021 | The 1st Shipment (Plan) |
<Contact>
・Erex Co., Ltd. IR/PR Office  TEL: 81-3-3243-1167  e-mail:pr.info@erex.co.jp