Notice of Start of Operations of "Fujiyoshida Hydrogen Power Plant", a Demonstration Hydrogen Single-Fuel Power Plant
April 6th, 2022
Notice of Start of Operations of "Fujiyoshida Hydrogen Power Plant", a Demonstration Hydrogen Single-Fuel Power Plant

erex Co., Ltd. (Head Office: Kyobashi, Chuo-Ward, Tokyo; Representative Director and President: Hitoshi Honna; hereinafter referred to as "the Company") is pleased to announce that, from April 6 this year, it will start continuous operations of a demonstration hydrogen power plant in Fujiyoshida City, Yamanashi Prefecture, which has been under construction since November 2021.
Note
The Company believes that it is extremely significant to start demonstration operation of a hydrogen single-fuel power plant that uses hydrogen as a fuel, which is said to be an indispensable energy for the realization of a carbon-free society, in order to achieve carbon neutrality.
This power plant will generate 320 kW (270 Nm3/h: hydrogen volume) of electric power, with Hydrogen Technology, Inc. (hereinafter referred to as "HT") supplying hydrogen and the Company operating the power plant. In this demonstration operation, HT will produce and supply hydrogen by reacting igneous rocks and water, which it has been researching, and the Company will supply continuous and stable electric power without emitting CO2 by capitalizing on its experience in power plant operations. The hydrogen used for this power generation is an extremely clean energy that does not emit CO2 even during the production process.
The purpose of the demonstration operations this time is to (1) confirm continuity and (2) reduce costs, and as the next step, construction of larger-scale hydrogen demonstration facility (1500 Nm3/h: hydrogen amount) will be studied jointly with HT. In the future, in addition to hydrogen single-fuel power generation, the Company will continue studies for the purpose of using hydrogen as a hydrogen station and chemical business, and will pursue the possibility of hydrogen business in a carbon-free society.
The Company, based on its management philosophy "To become a pioneer in the new era of electric power with renewable energy at its core", will take on challenges from all angles to realize a carbon-free hydrogen society.
The Company will continue to contribute to the realization of a carbon-free society in Japan and overseas by setting CO2 reduction as a corporate policy and by making efforts to ensure economic rationality.
【Outline of the Power Plant】
| | |
| --- | --- |
| Name of the Power Plant | Fujiyoshida Hydrogen Power Plant |
| Operation Company | erex Co., Ltd. |
| Location | 1661-5 Araya, Fujiyoshida City, Yamanashi Prefecture |
| Site Area | About 225㎡ |
| Power Output | 320kW |
| Fuel | Hydrogen |
| Demonstration Operation Start Date | April 6, 2022 |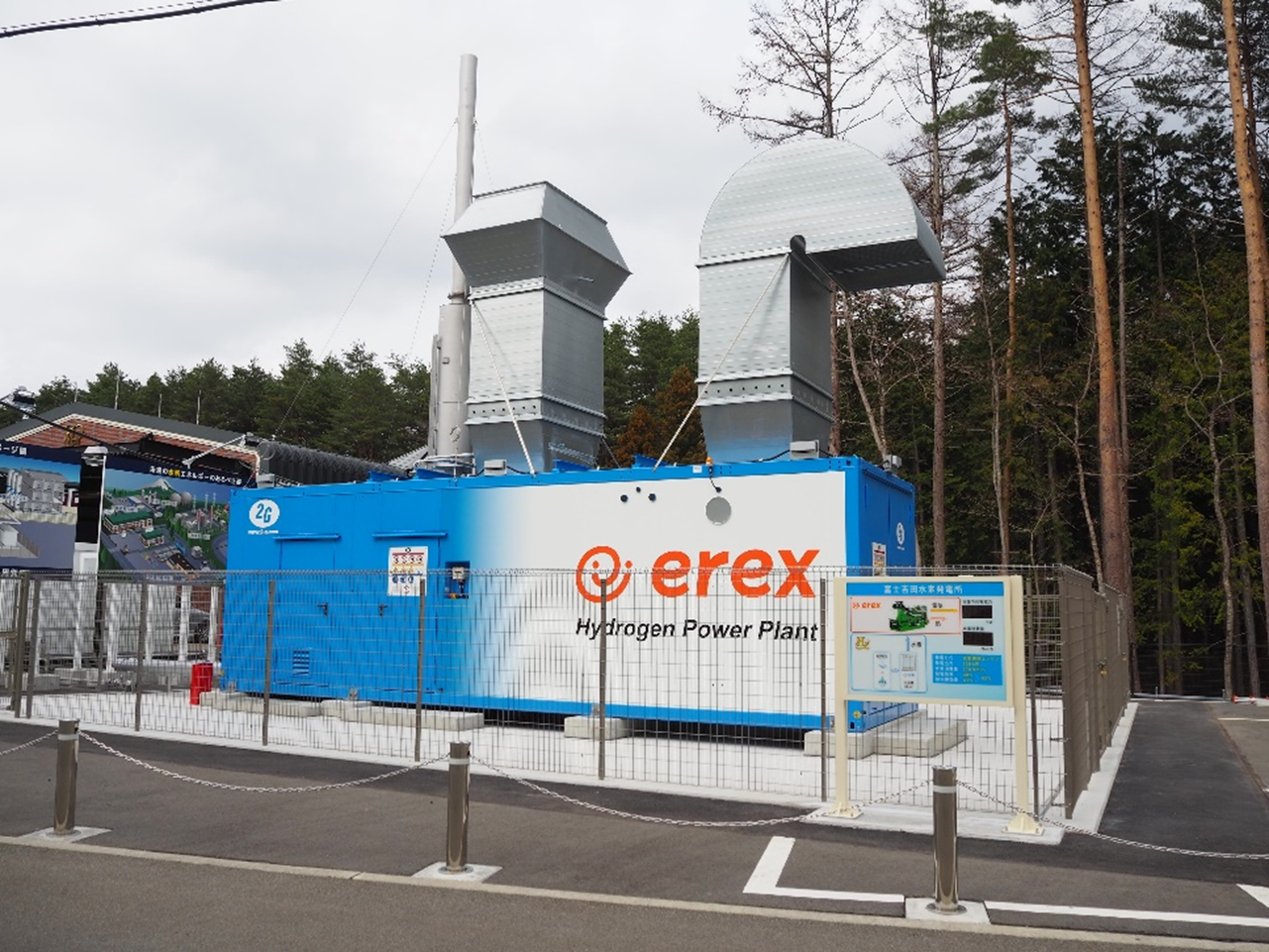 ■Outline of erex Co., Ltd.
 Company Name: erex Co., Ltd.
 Location: 14F Kyobashi Edogrand, 2-2-1 Kyobashi, Chuo-ku, Tokyo 104-0031, Japan
 Representative: Hitoshi Honna
 Business: Power/Gas Retail Business, Biomass Power Generation Business,
 Fuel Business, Trading Business
 Capital Stock: 11.2 Billion Yen (as of July 2021)
■Press Contact
 erex Co., Ltd. IR & PR Department
 TEL: +81-3-3243-1167 FAX: +81-3-3243-1184
 E-mail:pr.info@erex.co.jp