Agreement to Study Joint Venture with ENEOS Corporation for One of the World's Largest Biomass Power Plants and Commencement of Environmental Assessment
November 10th, 2020
erex Co., Ltd. (Head Office: Chuo-ku, Tokyo; Representative Director and President: Hitoshi Honna; hereinafter referred to as "erex"), hereby announces that it has agreed with ENEOS Corporation (Head Office: Chiyoda-ku, Tokyo; Representative Director and President: Katsuyuki Ohta; hereinafter referred to as "ENEOS") to jointly study the feasibility of a mega biomass power plant, one of the largest in the world as a newly constructed plant, and has decided to start the environmental assessment.
Note
erex Group has set forth its "2030 Vision – For the Realization of a Sustainable Society – To be a Pioneer in a New Era of Electric Power with Renewable Energy at its Core" under the slogan, "To Pioneer the Future with New Ideas and Actions.
Since last year, this project has been earnestly examining various issues such as the selection of a specific suitable site, the formation of optimal facilities, and the securing of a large amount of economical fuel. In light of the strong expectations of the local community and other factors, erex Group has decided to start the environmental assessment procedures for the proposed construction site on the outskirts of Higashi-Kou, Seiro Town, Kitakambara County, Niigata Prefecture (owned by ENEOS). With regard to the grid connection, erex Group received a response of connection consideration from Organization for Cross-regional Coordination of Transmission Operators (OCCTO) on October 30, 2020.
The project is planned to have a capacity of 300 MW level, making it one of the world's largest new construction projects, excluding conversions from coal-fired power plants, and is intended to be the world's first ultra-supercritical (*1) biomass power plant. By making full use of the biomass power generation technologies and fuel-related knowledge that erex Group has cultivated so far, the project is planned to be the first non-FIT mega biomass power plant in Japan to be independent of the FIT system, with no burden on the public in the form of a renewable energy surcharge.
Specifically, erex Group plans to use part of a golf course near Niigata Higashi Kou as a biomass power plant site. The plan for the project, including construction work, is to take the surrounding environment into consideration. erex Group hopes that the local community will be fully informed and understand the situation.
As for the biomass fuel to be used, in addition to wood-based fuel from Russia, which has been considered to be used so far, erex Group will mainly consider using sorghum (*2) for fuel, which is being grown on a trial basis in Vietnam, the Philippines and other countries.
The project is scheduled to start the environmental assessment procedures, with construction starting in 2023 and commercial operation scheduled to start in FY2026. Once commercial operation is started, erex Group is considering supplying power widely to local customers in Niigata Prefecture and RE100 companies, etc. This project will also help meet the needs of erex Group's customers, such as reducing CO2 emissions.
erex Group believes that the implementation of this project will enable biomass power generation to continue to exist in Japan even after the end of the FIT system, which will greatly contribute to reducing the burden on the Japanese people, and that this is a project of great significance in terms of energy policy. At the same time, erex Group is determined to contribute to the development and revitalization of the local economy.
erex Group will continue to develop sustainable and renewable energy businesses with biomass power generation in Japan and abroad as a base, aiming to become a company that is valued and needed in the decarbonized society of the future.
*1: The technology generates high-temperature and high-pressure steam with a steam temperature of 600°C and a pressure of 26 MPa or higher, and uses the steam to turn a turbine for highly efficient power generation, which also helps reduce fuel consumption.
*2: erex Group is committed to fostering sustainable fuel sorghum (new sorghum) and strengthening its competitiveness across the entire supply chain, from fuel production to power generation use.
≪Conceptual View at Completion≫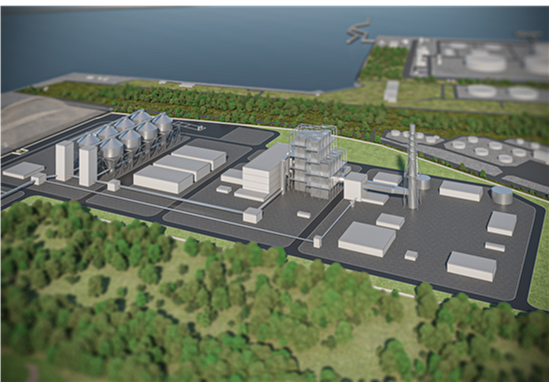 Summary of the Power Plant
| | |
| --- | --- |
| Power Output | 300MW |
| Location | Higashi-Kou, Seiro Town, Kitakambara County, Niigata Prefecture |
| Fuel (Plan) | Fuel Sorghum, etc. 1.2 Million Tons Annually |
| Estimated Annual Power Generation | About 2,000GWh |
| CO2 Reduction Amount | About 1 Million Tons Annually |
| Business Area | About 400,000㎡ |