Amid the drastic changes in the business environment, erex is eager to seize new business development opportunities and aiming to establish a solid position as a core company in the new electric power industry.
We are calling in the best brains who can support the electric power industry which underpins the social infrastructure with "responsibility" and "mission" while making a continuing challenge for our company's development and improving the quality of life by demonstrating the abilities of the "Challenge, For the team spirit, initiative, broad perspective, sense of crisis, and spirit, techniques and physical strength."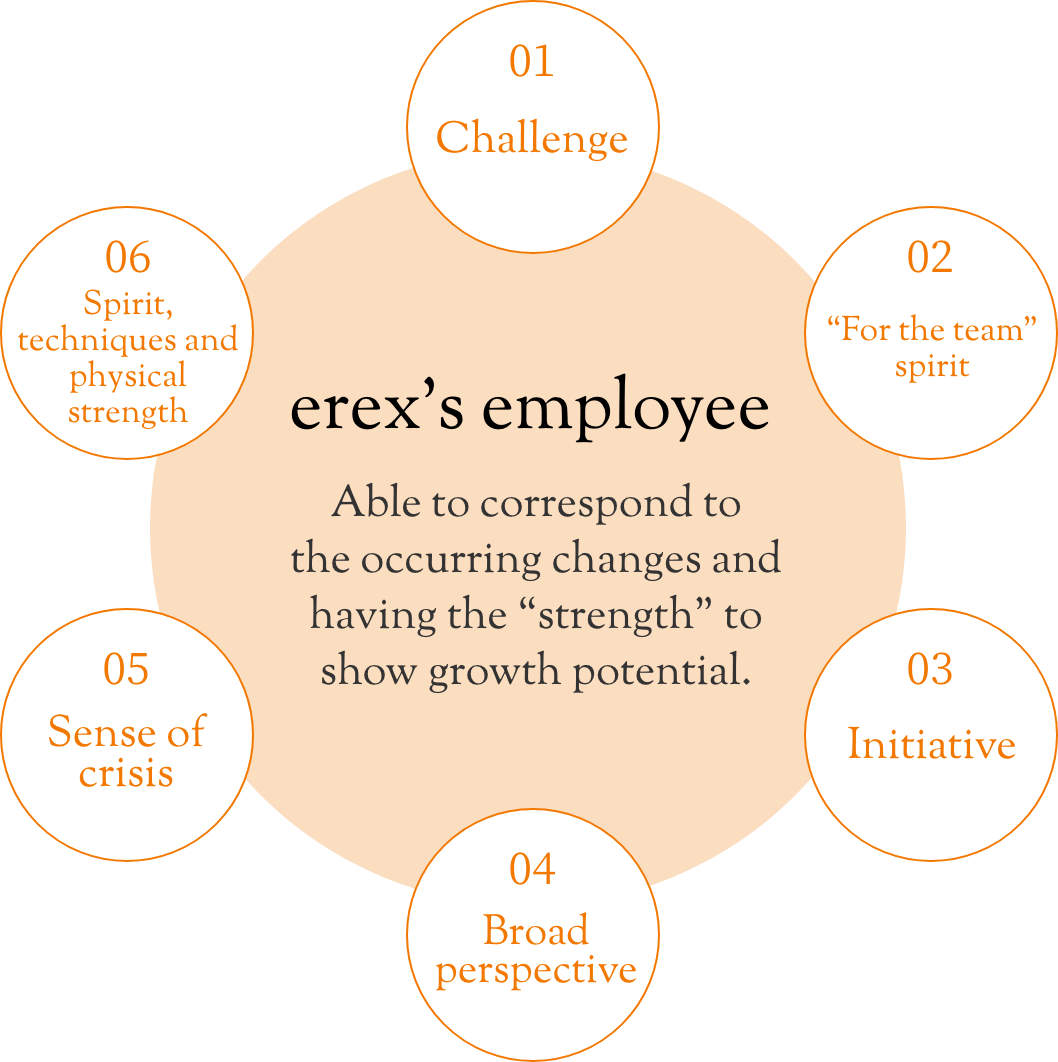 Who we are looking for
・

Able to handle new tasks and jobs regardless of your previous experience, knowledge, or workflow.

・

Able to accomplish your task without being too afraid of making mistakes or being too shy.

・

Able to understand that business is doing what others do not to or others can not do.

・

Able to think and act based on the idea that contributing to the team and company is the underlying standard.

・

Able to be compassionate and considerate to your team members.

・

Able to recognize that it is your team members who are covering your weakness and can take a respectful attitude towards them.

・

Able to think and act about the company and business issues as a matter of your responsibility and not others.

・

Be able to take responsibility not only for your work, but also for new work and the work of other members.

・

Able to understand that only handling what you were told to do is not the correct way of doing business.

・

Able to pay close attention to industry trend and social situations, considering the impact it will make to the company and take appropriate measures.

・

Able to conduct your work based on the fact that it directly contributes to the society.

・

Able to be aware of the business environment and think about your own future as well as the company's.

・

Able to share a sense of crisis exactly when the company is performing well and make even better improvements.

・

Able to improve your performance without being satisfied with the current situation.

・

Able to be well prepared in order to swiftly respond to the changes occurring in the energy policy.

06

Spirit, techniques and physical strength

・

Able to get yourself in a good shape both physically and mentally understanding that it is the base of a working adult.

・

Able to manage the pace of your life by controlling your work and life balance.